WORKSHOP EN MADRID – AGOSTO 2011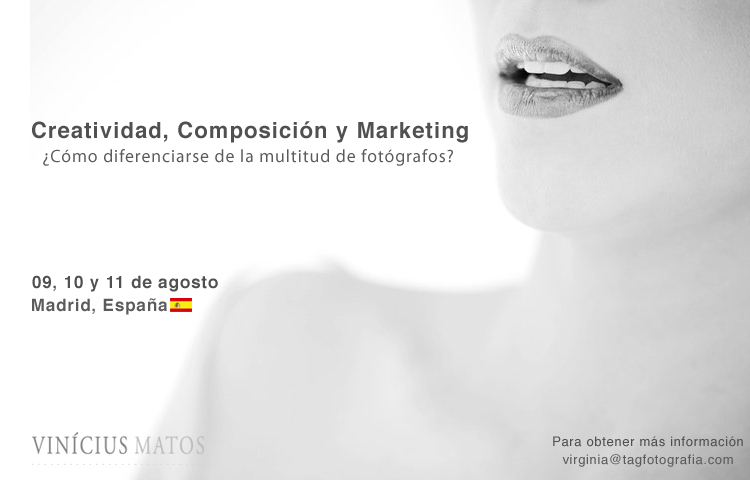 Ya está en marcha el primer taller de Vinicius Matos en España.
Los dias 9, 10 y 11 de agosto un reducido grupo de fotógrafos tendrán el placer de compartir un taller intensivo junto con uno de los cinco mejores fotógrafos de boda del mundo según la revista just married.
A los cinco años de carrera profesional fué considerado como el fotógrafo de boda número uno del mundo por la International Society of Wedding Photographers – ISWP, la más importante asociación mundial del segmento. Su libro La Guía de Fotografía de Boda (Editora Photos, 2010), es uno de los más completos para el fotógrafo de bodas.
También dirije la Escola de Imagem, la mayor escuela de fotografía de Brasil que contó con 3000 alumnos el año pasado, y de La Foto, una agencia de producción y consultoría en fotos de boda y familia.
Una gran oportunidad para conseguir diferenciar nuestro negocio y llegar mejor a los clientes.
El taller se relizará en el aula para fotógrafos que fotocasión, patrocinador del evento, posee en la calle Rivera de Curtidores 22, de Madrid.
El curso será intensivo , se incluyen clases tanto prácticas cómo teoricas, con modelos, en horarios de mañana y tarde.
Podeis descargar la programación del curso aquí:
Aquellos que esteis interesados en asistir por favor enviad un correo a:
[email protected]
ENGLISH : WORKSHOP IN MADRID – AUGUST 2011
it is already launched the first Vinícius Matos's workshop in Spain.
On the 9th, 10th and 11th of August a small group of photographers will have the pleasure of sharing an intensive workshop with one of the top five wedding photographers in the world, according to the "Just Married" magazine.
At his five-year of career he was considered the number one wedding photographer in the world by the International Society of Wedding Photographers – ISWP, the most important union of segment in the world. His book "The Guide to Wedding Photography" (EditoraPhotos , 2010), is one of the most complete for the wedding photographer.
Also heads the "Escola de Imagem", the largest photography school in Brazil which had 3000 students last year, and "La Foto", a production and consulting agency in wedding and family photos.
A great opportunity to get to differentiate our business and better reach customers.
The workshop will at place at the classroom for photographers which Fotocasión, sponsor of the event, owns on the street Rivera de Curtidores 22, in Madrid.
The course is intensive, including practical and theoretical classes, with models, in the mornings and afternoons.
You can download the course schedule here:
Those who are interested in attending please send an email to:
[email protected]
Deixe um comentário
Comment