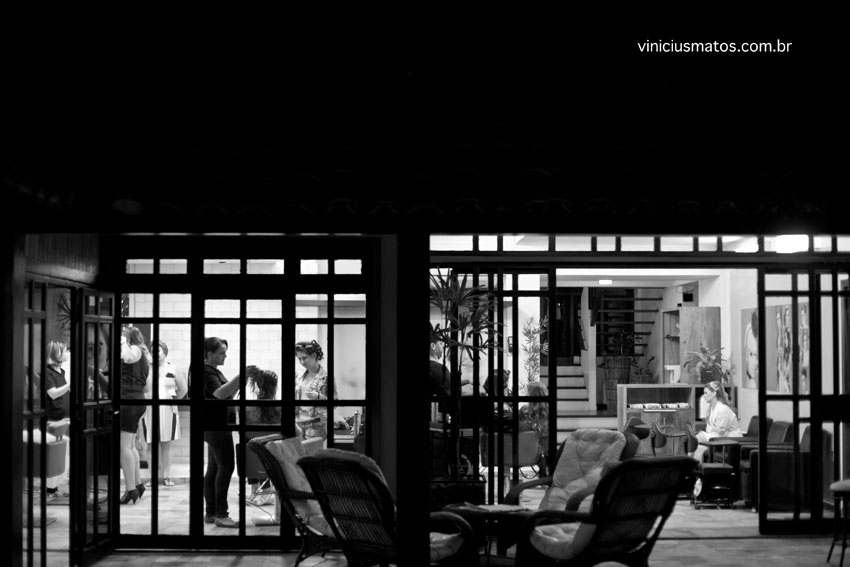 Editing Life
Yesterday, while editing this weeding shoot I was thinking about what I would write. Always before writing the text of a POST, I just watch and try to takeoff of the pictures something that catches more my attention. It is an intuitive process and the theme almost always jumps in front of my eyes.
In this case, because I know something about the life of newlyweds, André and Lorene, friends, several themes have emerged. I confess I was confused about what to write. Such confusion led me to a reflection. I started to think about the editing process, the stage of choice and arrangement of the images. Which picture goes where, in the blog and in the album? I felt responsible and even guilty, because I know that the way I edit is surely changing the message. Isn't such a responsibility?
My thoughts unfold and I was reminded of something I read that goes: "to photograph is to edit." I start excluding when I frame. Conposing is deciding what will be out of the picture. Each photographer chooses to leave out something different.
Furthermore we photograph what attracts our attention and we edit at the time of the click according to our past experiences. Each of us sees something so peculiar. Glad life is like this. It sure is way less monotonous.
Some photographers are concerned with showing things like they are. How so? Things for each of us appear in different shapes, therefore there is no such thing as things as they are. To me the so-and-so is a cool guy and to another photographer the same so-and-so is a bore. What would be the truth then? The truth is personal and not transferable. Even though I do not like the work of a photographer today I know the truth of that person is over there, explicit, and that is why I should respect it.
When I someone hires me to shoot a wedding today I know that the newlyweds want my truth. I am a interpreter,  sometimes a lier in the eyes of some, or incomplete in the eyes of others. I am above all an editor, who had a big disappointment the other day. I received from a customer a long email complaining about photos missing. Images like:
– Photos with fisheye lens
– Photos of the bride's back as she was coming in
– Photos of the couple on the bestmen's shoulders
I was shocked. With all due respect to the bride who hired me, I can only see one way, my way. What is photographed by me is the way I see the world and those people in front of me. It is impossible to me, photographer, to create a rigid standard of something that is totally unexpected, the human being.
Humans + light = raw material for my photography
I apologize to this customer for not seeing her way. I think that no photographer could, unless they were their  own photographer. Without wanting to divert the matte,r which is the editing, I believe that increasingly, I as a photographer should put my foot down in the edition of my life. I shoot and what I am and I change my photography as change myself. I can say that today what I live is the convergence of what I am with what I edit at the time of shooting. That is photographich freedom, freedom to edit.
Today I am the editor of my own photography and who hires me has to believe the way I edit it. The process is long. We must educate the client and show them it is worth trusting. I then thank the couples who like the way I edit the pictures and have given me this precious vote of confidence.
To illustrate the message I try to show here, no one here better than Clarice Lispector. She edited the words in a surprising way!
I do not love you anymore.
I'll be lying by saying that
I still want you as I have always wanted.
I'm sure
Nothing was in vain.
I feel inside me that
You mean nothing.
I could never say that
I feed a great love.
I feel increasingly that
I am over you!
And I will never use the phrase
I LOVE YOU!
Sorry, but I have to tell you the truth
It's too late ..
NOW LET'S EDIT THE TEXT AS SHE SUGGESTS. READ THE SENTENCES FROM BOTTOM TO TOP AND SEE HOW THE TRUTH CHANGES.
Gotta go now, time to edit!